Einlass: 19:00 Uhr
Beginn: 20:00 Uhr
Abendkasse: 14,00 €
Vorverkauf: 13,00 €
(zzgl. Gebühr)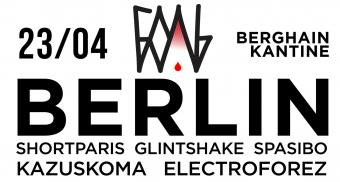 THE БОЛЬ FESTIVAL
+ SHORTPARIS + GLINTSHAKE + SPASIBO + KASUSKOMA + ELECTROFOREZ
Electro \ Synth-Pop \ Noise \ Experimental
The БОЛЬ (PAIN) Festival is raising its flags all over Europe!
This summer the biggest independent music festival in Russia with a name to match its ambition is going to wreak havoc on the Central European techno culture. A powerful wave of unrefined sound will wash over Europe, showcasing the real state of Russian music in 2018. Five loud bands will break into 5 cities to hold Russian New Wave Seasons conquering hearts and generations!
Shortparis
Enter the covert hiding place where music of Russian band Shortparis dwells, waiting to be discovered. Young men born in Siberia, now reside in most European city of Russia delivering their own unique brand of music. The music of Shortparis: where neurotic attrition gives birth to a beautiful still born child dancing on the streets of Saint Petersburg away to a new kind of moon. This irrational, spastic dance groove borderlines somewhere between dark electro, post-punk, experimental noise and acoustic chanson. All of it routed deeply in decadent movement esthetics strangely passed though often confusing labyrinths of Russian soul, a perception that yet to be understood. In short, this is gothic music without being even closely Goth.
Казускома
retro sex punk rock band from moscow, all whose songs about love
ГШ / Glintshake
Moscow's Glintshake have recently gone back to their native language – even changing their onstage initials from "GSH" to "ГШ" in Russian. The point of this new direction is to reengage with the greater incisiveness, self-deprecation, and creative freedom that comes from speaking your own language. In the same manner, ГШ have decided to develop their melodies, lyrics, and appearance in overtly non-linear ways. Of late, the band has drawn upon academic music, the Russian avant-garde, Soviet new wave – and jazz. Taken as one, the concerts and video performances of ГШ become a single anthem to the paradoxical freedoms, spontaneity, and absurdity of Russian existence. A line is drawn towards pure abstraction: the familiar imagery is daily life is both deconstructed and turned inside out.
Spasibo
Spasibo is a highly energetic mix of shoegaze, metal, psychedelic and old-school emo with a pinch of art rock. The band has released 3 full-length albums with their latest ("Navsegda") being a concept album about leaving all the worst things behind you on a path to the bright new life.
Now the four-piece band is going on their first European tour to show everyone what it's like – to party like a Real Russian.
Электрофорез / Electroforez
ELECTROFOREZ is an electro-pop duet from Saint-Petersburg, Russia. Due to their success, it's already recognized as one of the leader bands in the Russian alternative music scene. Since its foundation, back in the year 2012 they made it their primary goal not to imitate other bands and to develop their own style.
For this reason, they are constantly experimenting by mixing elements of synth-pop, dance punk and techno, these are the genres from which they have taken a large portion of their influences and inspiration. While at the same time they combine very nostalgic post-soviet sounds with contemporary rhythms. Their lyrics tell us about the real Russian culture of today in an eccentric and intriguing way by focusing on common concepts of the daily life experience.