Einlass: 14:00 Uhr
Beginn: 15:00 Uhr
Vorverkauf: Der VVK startet demnächst €
(zzgl. Gebühr)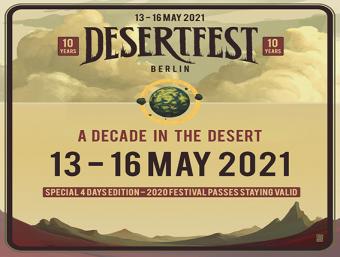 DESERTFEST BERLIN 2021
10TH ANNIVERSARY (4-DAYS EDITION)
Stoner / Rock / Psychedelic / Doom

Friends, we're happy to finally share some good news with you: Desertfest Berlin 2021 will take place from Thursday 13th May - Sunday 16th May at Arena Berlin!
To celebrate our 10th anniversary, a decade in the desert, in style, we decided to hang and party with all of you for not only 3, but 4 days in a row! Thursday, the 13th of May, being a public holiday in Germany comes in quite handy for our inland visitors :)
3-days ticket holders of DF Berlin 2020: your tickets will remain valid and automatically turn into 4-days passes for the 2021 edition! The single day tickets as well remain valid for the respective day in 2021. 
While we are doing our best to secure most of the bands of this year's edition, make no mistake. We're preparing some huge surprises for our 10th birthday! Hopefully we'll be able to share some of these exciting news really really soon!
If you can not make it to our festival next year you have the possibility to return your tickets and get a refund by messaging info@greyzone-concerts.de with your full name and order number. As there's not gonna be a warm-up party in 2021, ticket holders of the warm-up can return their tickets through GreyZone already.
We want to thank everyone for all the warm and encouraging words these past days. Your never ending support means the world to us and put a smile on our faces in these not so easy times. Let's stick together through 2020 and make 2021 our year, full of heavy psych 'n' roll, good chats 'n' drinks, enjoying our favourite music all together! 

Friends, we can't wait for 2021 to come. See you all 13th May - 16th May at Arena Berlin!