Einlass: 20:00 Uhr
Beginn: 21:00 Uhr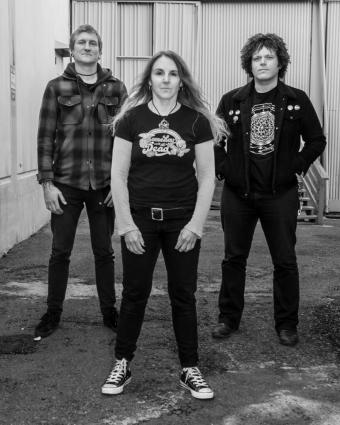 ACID KING
BEYOND VISION TOUR 2023
+ LOVE YOUR WITCH
Stoner / Rock
"What do you do at this point in your career, when you've been around for so long?"
That's Lori S. from San Francisco's Acid King. These days she's asking the big questions. The storied guitarist and frontwoman has been building her electric empire, riff-by-riff, for nearly 30 years. Though Acid King's lineup may change, Lori remains the driving force and master cylinder.
Adopting the nickname of notorious teenage slayer Ricky Kasso, Acid King came screaming out of San Francisco in 1993 with a sound that fused heavy '70s proto-metal with the kind of bleary, slow- rolling dirge power being harnessed by their contemporaries in Sleep and Electric Wizard.
The band's 1993 debut 10" was followed two years later by their first full-length album Zoroaster (Sympathy For The Record Industry), which set the stage for a trio of crucial releases on Frank Kozik's famed Man's Ruin label, which included the EP Down with the Crown & Free. But it would be Acid King's acclaimed 1999 album Busse Woods that solidified their reputation amongst a generation of riff worshipers, weed heads and heavy rock enthusiasts. Two decades of hard touring and sporadic recording ensued.
The band released III in 2005 on Small Stone records and—after parting ways with the musicians who played on 2015's Middle Of Nowhere, Center of Everywhere—Lori formed a touring lineup that concluded with the Busse Woods 20th Anniversary tour in 2019. Lori wasted no time pondering her next move. The sweeping lockdowns that attended the great plague of 2020-2022 provided the opportunity to collaborate with Black Cobra guitarist/vocalist Jason Landrian.
"Once we got together and started writing, it was clear that it was much more than an obscure, avant-garde instrumental thing we originally had in mind. These were really good songs we were proud of. It became an Acid King record." The result is Beyond Vision, and it's unlike anything Acid King has done before.
The undulating, lysergic pulse that underscores Beyond Vision marks the dawn of a new era for a band that previously relied almost exclusively on thundering riffage. Don't get it twisted, though: There are blistering guitars aplenty. Beyond Vision is simply Acid King in widescreen technicolor and interstellar cinemascope.
"The songs really have no beginning or ending—they all just flow into each other. It's meant to be listened to as one piece. The whole point was to have the listener feel like they're on a journey. If you put headphones on, it'll take you to whatever places you'd like to go to."
It's that kind of serendipity that permeates Beyond Vision. What began as an experiment became the path to a silver future.

2023 Touring Line up
Lori S – Guitar/Vocals • Bryce Shelton – Bass • Jason Willer - Drums